Hello AirtelTrickianz !! Its a quite long since we have published any refer and earn offer. Reality is that nowadays no such genuine and good referral scheme coming away. But today we've found a new app that is having refer and earn programe with decent amount.
One will get Rs.50 on sign up while per successful refer you earn Rs.10-20. Also the minimum amount to be redeem is only Rs.250. Hence we have decided to share it with you AirtelTrickianz, hope this will help you to earn healthy bucks for this month.
UPDATE :- CASH OUT THRESHOLD LOWERED TO RS.150
How to SignUp & Get Rs.50 in wallet
1. Download & Install NewsDog by
Clicking here
2. Once your downloaded has completed just open the app
3. Now you have to select your lanugaue, just Select the language "
Hindi
"
4. There you will see below screen, just click on "
Thik
" written in hindi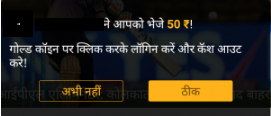 5. After that you have to login via facebook
6. Finally you are done, you have earned Rs.50 into your wallet as sign up bonus.
NewsDog App – How To Refer & Earn Free Cash
Note: For first refer you will get Rs 15 Directly. Then for next 3 refers you will get Rs 5 bonus per each refer. Then for next refers you will get coins when friend reads any news. Friend reads a news, he/she will get 25 coins and you will get 50 coins. Read more news and earn more coins & convert coins to cash!! You can earn Maximum 2500 Coins (Rs 10) from One Friend.
• Open Newsdog app and click on "
Rupee Symbol
" hanging in top
• There you will see a banner on which you will see "
Ek Hafte mai Dosto ko Invite krke Kmye Rs.1000
", just click on that

• Finally you will get your referral link.
• Now share with friends and earn Rs.10 free paytm cash on per invitation.
• 2500 Coins = Rs.50 On Signup & Rs.10-20 On Each Successful Refer
Trick to Earn Unlimited Coins Easily :
Just Read News Daily from NewsDog App, even if you don't read and just open news, scroll down then you will get 25 points per News. This way read unlimited news and earn unlimited points. This is best way to loot unlimited coins in NewsDog app without doing any other task.
Ways to Earn Coins
• Daily Check-In – You Will get 20-50 Points By Doing Daily Check-in In App
• Reading Stories – When your friend read stories you will get 50 Coins & your friend get 25 Coins
• Friend Challenge – You can win maximum 2500 Points but You have to daily read more then 3 News Articles
How to Redeem your Earning
• First of all open newsdog app
• Click on " Rupee Symbole " hanging in top
• Now go to Coins (Nakad) >> Cash (Amdani) >> Cash Out (Nakad Nikale)
• That's it, 50 Coins = Rs.1 Paytm Cash
2500 Points is equal to Rs.250 Paytm Cash
.
Proof

NewsDog App Unlimited Refer And Earn Trick
This unlimited trick is for Redmi and Samsung smartphone users. You can make unlimited Facebook accounts by temporary emails to earn unlimited.
Unlimited Trick For Redmi Smartphone Users:
1. First of all note down your link.
2. Then, go in to the mobile settings
3. The, you have to click on the second space option in the settings.
4. Just click on that option and create a second space.
5. Now, open browser and paste your refer link and download app.
6. Open the app and sign up with facebook.
7. Read 2 or 3 news to get your refer money,
8. Repeat the steps 1 to 7 to earn unlimited.
Unlimited Trick For Samsung Smartphone Users:
1. At first copy your refer link.
2. Now, download My Knox app: Download
Here
3. Then, paste your refer link in any browser and download app.
4. Now, open the app and sign up with facebook.
5. Read news you will get your refer amount in the app.
6. Repeat steps 1 to 5 to earn Rs. 1000/-